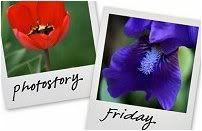 Hosted by Cecily and MamaGeek
For this photo friday I dug out a few photos that are a from the fall season. I wanted to get a few showing the colors of nature and what better season for that than fall. Well other than spring and well ... anyway I chose fall this time around :-)
I couldn't even begin to tell you about how many times I got the comment sounding something like "what are you going to do with a photo of a single tree with red leaves???" followed by something like that is crazy...
Anyway those comment sort of faded a wee bit after a similar shot ended up on the cover of outdoor photographer. Here it is:
The next one I have had on my desktop at work and somehow just started liking it more the more I look at it. I dunno why but... there's just something... for me anyway ;-)
Now I like waterfalls, water, mountains, fall colors and all that. Here I have tried combining a little bit of everything and get some punch by doing some simple color isolation. One by removing all other colors and the other simply by have the main yellow color "stick out" from the rest.
That's it for this week. Hopefully soon I will get some more from the mountains :-)