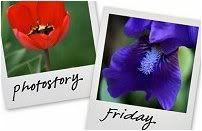 Hosted by Cecily and MamaGeek
One weekend after getting back from our trip to Denmark we went on a smaller trip (just about 20-30 miles) to Hollins farm to pick peaches and other fruits.
While being there I finally had a chance to get a couple of photos of sunflowers against a blue sky :-)
These photos are the result of the short but very interesting trip.
All of these I created as HDR images which I did by creating multiple exposures bracket around the measured value.
Being rather new to shooting for HDR creation I setup a 5 bracket exposure +/- 1 stop.
Here they are: